Building & Facilities Management
R&B Building Services are builders, refurbishment specialists and facilities management contractors. We specialise in office refurbishment, commercial and residential renovation, and contract maintenance services. We cover all aspects of construction, conversion, renovation, and maintenance for commercial and residential customers, and provide facilities management services for commercial clients throughout the UK, including scheduled and reactive maintenance and building compliance services.
Facilities Management
Facilities Management
Scheduled Maintenance
Reactive Maintenance
Building Compliance Services
Office Refurbishment
Office Renovations
Office Enlargement
Office Interiors
Shared Areas & Receptions
Commercial Renovation
Commercial Refurbs
Manufacturing Upgrades
Production Area Upgrades
Retail Refurbishments
Residential Construction
Home Renovation
Building Conversion
Home Extensions
Building Maintenance

What We Do
R&B Building Services are based in Keighley, West Yorkshire, and cover all areas of the UK. For commercial and residential clients, we undertake new builds, conversions, renovation projects, building extensions and general improvement. We have extensive experience in office and retail refurbishment and specialise in commercial renovation and facilities maintenance and management.
Building, Maintenance & Facilities Management Contractors in Keighley, West Yorkshire,
UK
We deliver our building services throughout the UK and have a strong and diverse network of employees and sub-contractors. We have developed an excellent reputation for service, affordable prices and high standards of skill, knowledge, and workmanship. Our team of qualified builders & allied tradesmen are highly experienced, enabling us to carry out a wide range of projects in commercial and residential construction and commercial building maintenance.

Our services are complimented by our sister company, R&B Mechanical & Electrical Ltd, enabling us to offer customers a full multi-trade package of building services including gas boiler services, HVAC, plumbing and all aspects of NICEIC approved electrical wiring, installation, and testing, in addition to green energy services including solar panel installation and EV charging points.

We have been providing planned and reactive maintenance services to several commercial clients across the UK for a number of years. We can offer all scheduled and reactive services incorporating general fabric maintenance through to HVAC (heating, ventilation & air-conditioning), and electrical testing, fault finding, installation and lighting.
Facilities Management

Scheduled | Reactive | Planned Maintenance

Commercial Renovation

Refurbishment | Renovation | Upgrades

Office Refurbishment

Interiors | Renovation | Enlargement

Residential Construction

Construction | Conversion | Renovation | Repair
Health & Safety
R&B Building Services (Skipton) Ltd have demonstrated compliance with The Contractors Health and Safety Assessment Scheme (CHAS) standards in line with Safety Standards in Procurement (SSIP) core criteria and UK health & Safety legislation and have been awarded accreditation to the requirements of the Construction (Design and Management) Regulations 2015 (CDM 2015) having been assessed under the requirements to act as a Principal Contractor.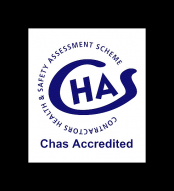 The Contractors Health & Safety Assessment Scheme (CHAS)
The UK's Leading Provider of Risk Prevention, Compliance and Supply Chain Management Services for Clients and Contractors. Since 1997, CHAS (The Contractors Health and Safety Assessment Scheme) has been helping to improve health and safety standards across the UK and safeguard organisations from risk.
"R&B Building Services look after the gas and electrical maintenance at all four of our sites and have carried out various works for us over the last ten years"...................Allan Davison, Bizzie Lizzies, Skipton
Building | Maintenance | Facilities
Our Clients: Commercial | Residential | Retail | Financial | Education | Leisure & Hotels | Healthcare | Local Government